Since 1996, Fincas Mallorca is an agency for the rental of fincas, casitas (small houses) and apartments. We are located in the valley of Sóller, and here are mainly the fincas we have in our programme.
Off the centres of mass tourism on the island, we offer you the other side of Mallorca - fascinating landscapes, charming nature and private owned individual accommodation for your stay in the "valley of the oranges".

We chose this location in the northwest of the island, because in our opinion this is one of the most beautiful regions on Mallorca and the entire Balearic Islands. Sóller is the ideal location for holidays for both - seekers of quietness and remoteness and those who look for activities on land and on water.
All fincas, holiday homes and apartments have been selected personally and with care. As we live in Sóller all over the year, we can constantly check and inspect them in our clients interest. The variety in location, size and equipment of the objects makes sure that there is the right finca for everybody.
Free houses in September 2016
» Finca Solivet in Fornalutx from 08.-24.09.2016 (2-6 persons)
» Finca Can Buscat in Sóller from 11.-30.09.2016 (max. 4 adults + 2 children)
» Casita Establo in Sóller from 11.-18.09.2016 (max. 2 adults + 1 child)
All other houses are booked out in September.
A selection of our favourite holiday homes
The impressive finca Can Busquera is located in a quiet area between Sóller and Fornalutx, both villages are within a 3 minutes driving distance. Port de Sóller and the beach are reachable by car in 10 minutes.
6 adults + 2-4 children, starting EUR 360.- / day
The charming Casita Vista Bahía (Bay View) is located above Port de Sóller within the valley of La Figuera. Marvellous views over the bay of Port de Sóller are the outstanding asset of this casita. Small pool.
2 persons, starting EUR 170.- / day
Charming two-storey finca located within an olive grove outside Fornalutx. Views to Biniaraix, Sóller and the mountains.
4 adults + 2 children, starting EUR 200.- / day
The modern and stylefully designed Casita Limon is located outside of Sóller within a plot full of Mediterraneas plants. A wonderful house in a sunny area with walks starting right in front of the house.
4 persons, starting EUR 155.- / day
Two charming small houses just outside of Sóller with beautiful views over Sóller and the valley. Each casita sleeps 2 adults and a child.
Starting EUR 105.- / day
Do you want to be informed about new fincas? Follow Fincas Mallorca on Facebook.
---
Sóller itself as well as the entire island of Mallorca offer a large variety of leisure and sport activities. In the cooler months of spring and autumn, Sóller and its surrounding mountains of the "Serra de Tramuntana" are a paradise for hikers and walkers of all levels. Uncounted trails along the mountains, ranging from 1 hour to full-day excursions, offer wonderful views over the valley or the sea, and constitute one of the main asset of the Sóller valley.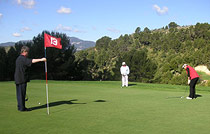 Golfers also appreciate the mild temperatures during these seasons and find 23 golf courses on Mallorca, most of them with 18 holes, driving range, putting green and marvellous restaurants. Only 15 minutes driving off Sóller is located the 18-hole course Golf Son Termens, perfectly embedded in the mountains and with beautiful views towards Palma and the sea.
Summer invites for all kind of water activities, such as scuba diving, boat charter, deep sea fishing, kayaking or just lazy tanning on the beach. The beach in Port de Sóller, only some 10 minutes driving off most of the houses in our programme, is nice for children as well as adults. If you prefer larger beaches, the natural 5 km long beach of Es Trenc is only 1 hour driving from Sóller and well worth a day excursion.
For some more information on the activities in and around Sóller, please click here or contact us.
---
Finca, casita, holiday home ... what´s that exactly?
A finca is a farmhouse with formerly agricultural activities. The word "finca" actually comprises the farmhouse itself as well as the the land around it. On Mallorca, and especially in the Sóller valley, the land was used for the cultivation of oranges and lemons, almonds and olives. The Sóller valley is also called the "valley of the oranges" and in most gardens and grounds, the oranges are still cultivated.
The fincas in our programme have little left of the originally rural conditions and shapes. The houses are renovated and modernised, the gardens embellished, and many of them have a pool. This forms the idea of the holiday finca of today. In the Sóller valley the plants include still some orange and lemon trees which may be picked by the tenants (for example in the Finca Son Flor, Can Giret and many others).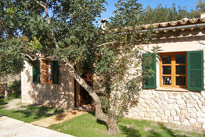 Casita is the expression and literal translation for "small house" and can be a former stable or a small cottage in the olive grounds of the surrounding Tramuntana mountains. They were used to store the agricultural tools and to sleep. After this, the families used them for their weekend meetings, then enlarged, renovated and nowadays rent as cosy, romantic hideaways.
---

Fincas Mallorca
Tel. +34 971 633017 | www.fincasmallorca.de | info@fincasmallorca.de
---
Please note that all descriptions of the fincas, houses and apartments are written with care and believed to be correct, but we cannot guarantee them neither assume any responsabilities for any deviation. However, if there are substantial changes in one of the houses or its surrounding, we will comment this to our clients.
Last change: 28.08.2016
Overview of all our self catering accommodation on Majorca | Vacation villas in Sóller | Holiday apartments in Port de Sóller | Holiday fincas in Fornalutx and Biniaraix | Car rental on Majorca | Request for a finca or holiday house on Majorca