Activities and sports around Sóller
Apart from swimming and bathing in the Mediterranen Sea, there are quite a lot of other activities you can spent your time with during your stay in Sóller. If you do not want to spend all day on the beach, or if you visit Sóller during those months when the sea and the weather is still too cold for swimming or sunbathing, here´s are some example how to be active and have fun.
Further links to leisure and activities you can find on the page Links and partners.
---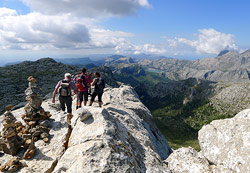 Sóller and the surrounding mountains, the "Serra de Tramuntana" is the ideal place for long walks and even hiking tours. The high number of different trails offer a manyfold of possibilities for both, the relaxing walker as well as the trained mountain hiker.
There are several companies and private persons offering guided tours; so, for example the Hotel Es Port offers such tours or the Tramuntana Tours shop in Port de Sóller. If you want to hike on your own, it is recommended to do so with the help of a guide book or at least a good hiking map in which the different tours are shown. Please consult us for a recommendation.
Many of the fincas and casitas in our programme are located near the hiking trails, such as the Casita Rústica, the Finca Las Rocas and many more. We can say that from any of the houses within the Sóller valley, a walking or hiking trail is only minutes away - you just have to choose one.
---
Biking
On Mallorca there are excellent and varied bicycle paths and tours. For both, for racing cyclists and mountain bikers the Tramuntana mountains offers many possibilities of competing with the mountains and enjoying a breathtaking landscape simultaneously. Mountain biking off the public roads is somewhat restricted though, as the majority of land is private property.
Those who prefer the rather plain routes will find a widespread net of bicycle rails all around Palma stretching all along the south coast of Mallorca - from Palma to Andratx.
In Sóller, bicycles of many types can be rent at Tramuntana Tours in Port de Sóller.
---
Trips with the scooter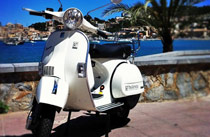 Do you want to explore the coastal roads along Sóller, find remote bays and calas, and feel the Mediterranean air in your hair? Perhaps you prefer to drive through the idyllic mountains roads of the Tramuntana mountains towards the Cuber reservoir?
What a pleasure with one of Bullimoto Original Vespa scooters, or a scooter of Motos PepLlu !
www.bullimoto.com
www.motospepllu.com
---
Golf on Mallorca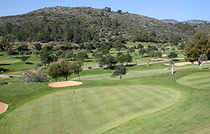 The steadily growing number of active golf players find an ideal destination on Majorca. A total of 23 golf courses, most of them 18-hole, make the islands the perfect place for lovers of this sport. And the rest of the family has so many options what to do ...
The closest golf course to Sóller is Golf Son Termens, located at only 15 minutes driving. The course is Par 71 and offers challenge for all players, as well as wonderful views over half of the island.
If you want to learn golf in Son Termens, please contact Juan Schmidt Coll on anfrage@golfschule.com.
---
Scuba diving
Even if not comparable with the Red Sea, the Mediterranean Sea has much to see for scuba divers. Around Port de Sóller you can find more than 30 dive spots offering a large variety of flora and fauna: steep walls, caves, caverns, baracudas, rays, moray eels, octopus, dragon heads, groupers and and and ...
Between May and October, the diving centers OCTOPUS and TRAMUNTANA DIVING in Port de Sóller offer daily trips along the north west coast. They also offer diving courses (PADI), equipment rental, Nitrox fills, rebreather diving, etc.
www.octopus-mallorca.com
www.marinatramontanadivingcenter.com
---
Sailing / Surfing / Kayak / Water ski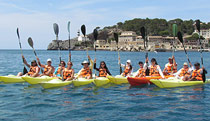 Right on the beach of Port de Sóller there is a small sailing school that offers sailing courses as well as rental of small motor and sailing boats, surf boards and kayaks. Even water ski is possible.
All information you can find on the beach next to the mole of the excursion boats.
---
Boat trips and - charter
The Barcos Azules, the excursion boats based in Port de Sóller, take you to Sa Calobra, Cala Tuent, or even Puerto Andratx for a lovely day trip. Enjoy the sea and the marvellous landscape of the northwestern coast of Majorca. For rather individual charterers, there is an Azimut 42 at your disposal.
More information on www.barcosazules.com.
---
Sailing trips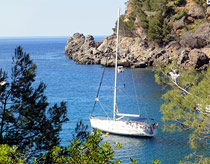 The company Mezzo Magic in Port de Sóller offers boat charter of different types, sizes and classes of sailing boats, with or without a skipper.
Enjoy the suntouched bays along the Northwest coast around Port de Sóller during a half-day or even full-day saling trip.
---
Tennis und Paddle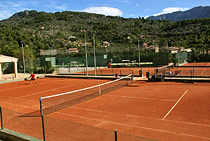 The Sóller Tennis & Paddle Club is located just outside of Sóller, near the road leading to the reservoirs. The higher elevation of the courts facilitate a beautiful view over the valley and Sóller.
There are four paddle tennis courts and five clay courts with floodlighting available. Information and prices can be found at
The complex also offers a public swimming pool, which is open during the summer months.
---
Horseriding in La Gubia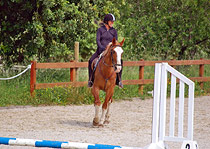 The well-run and idyllic riding stables La Gubia are located between Sóller and Palma on a large and beautiful plot.
La Gubia not only offers individual and group riding lessons but also excursions, lunging, children's rides, tournaments, and much more.
---
Some of the link on this website lead to other websites on external servers. Those third party websites are not and will not be controlled by us. The content and functionning of those websites is not in our responsability.
Fincas Mallorca
Sóller - Mallorca | Tel. +34 971 633017
info@fincasmallorca.de