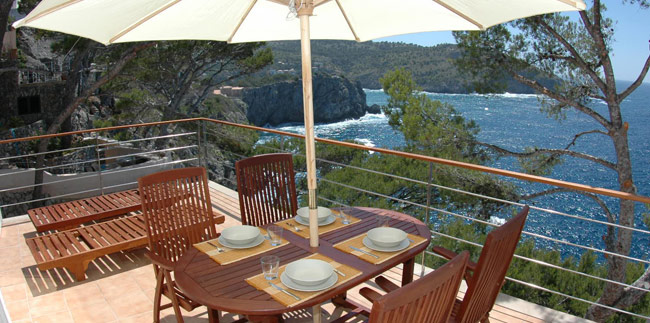 Apartments Mistral + Ponent

Port de Sóller
1 bedroom / 1 bathroom each
2 persons each
from € 150.-/day + apartment
---
Location
The apartments are located above the old town of Port de Sóller, at only 5 minutes walking down to the pedestrian area with bars, restaurants and shopping. The apartments are built at the edge of the cliffs and offer breathtaking views over the open sea.
Distribution / equipment
Apartment Mistral:
The living area of approx. 80 sqm are divided into a large dining area/saloon with open kitchen, a bedroom, bathroom and two terraces, one facing the sea, the other one facing the mountains and the village.
The light living area is furnished with a sofa, table and chairs, satelite TV (Astra, mainly German channels), hifi-system with iPod-plug and DVD. The bedroom has a large bed (160x200 cm), wardrobe and access to the front terrace.
The core part of this apartment is the terrace facing the open sea. Two sunbeds, table and chairs invite to spent a lot of time out there. The sun sets over the sea right in front of your eyes.
The Apartment Mistral shares a 3x1 m dip pool and an exterior shower with the second apartment of the house.
Further equipment: fan, safe, washing machine, car park.
Apartment Ponent:
The Apartment Ponent is almost identical to the Mistral, though some 15 sqm smaller and with a separated kitchen. The seaview-terrace is smaller, the morning sun terrace to the other side is nice though for early sunbathing.
Summary
A beautiful place with breathtaking sea views for some romantic holidays. Both apartments are not suitable for children.
Heating
Electric radiators in all rooms.
Licence: ETV/7652
---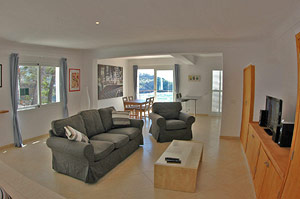 Living area of Apartment Mistral.
---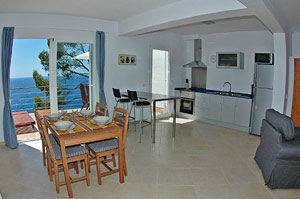 Dining area and kitchen of Apartment Mistral.
---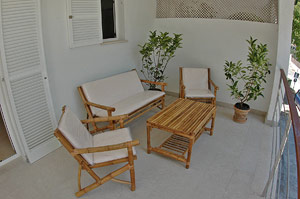 The front terrace of Apartment Mistral.
---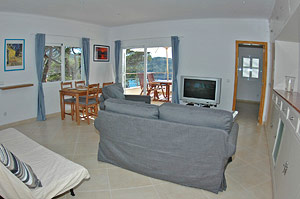 Living area of Apartment Ponent.
---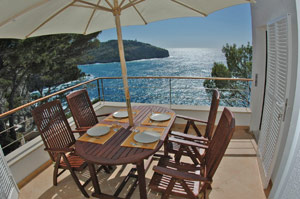 The sea view terrace of Apartment Ponent. There is a smaller table now so that also the sunbeds hace space on this terrace.
---
View from the terrace (photo by Taciana Rausch).
---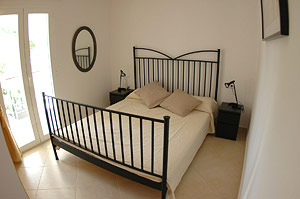 The bedroom with access to the front terrace (identical in both apartments).
---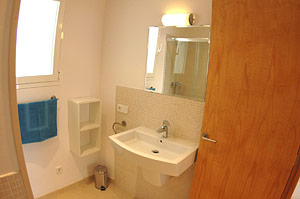 The bathroom (identical in both apartments).
---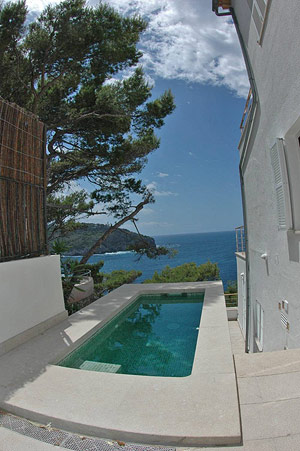 The dip pool.
---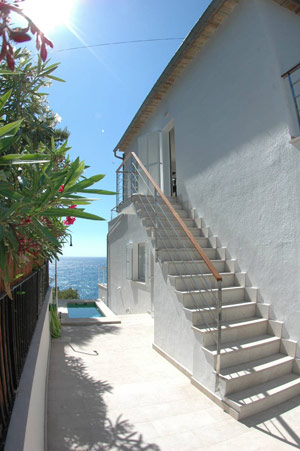 Stairs to the Apartment Ponent with the dip pool in the back.
---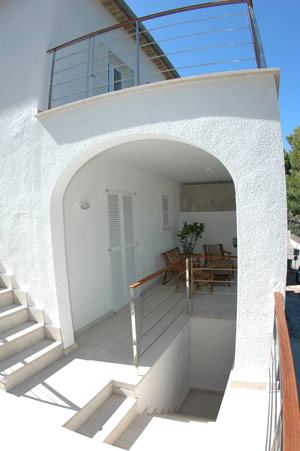 The front terraces , the lower one of Apartment Mistral, the upper one Apartment Ponent.
Fincas Mallorca
Sóller - Mallorca | Tel. +34 971 633017
info@fincasmallorca.de